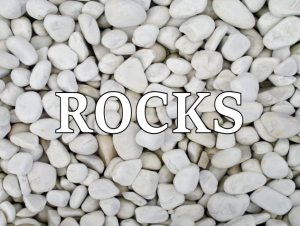 What is rosks?
Rock or stone is a natural substance, a solid aggregate of one or more minerals. Rock has been used by mankind throughout history. The minerals and metals found in rocks have been essential to human civilization.
Classification
At a granular level, rocks are composed of grains of minerals, which, in turn, are homogeneous solids formed from a chemical compound that is arranged in an orderly manner. Rocks are geologically classified according to characteristics such as mineral and chemical composition, permeability, the texture of the constituent particles, and particle size.
These physical properties are the end result of the processes that formed the rocks. Over the course of time, rocks can transform from one type into another, as described by the geological model called the rock cycle. These events produce three general classes of rock: igneous, sedimentary, and metamorphic.
Human use
The use of rocks has had a huge impact on the cultural and technological development of the human race. Rocks have been used by humans and other hominids for at least 2.5 million years. Lithic technology marks some of the oldest and continuously used technologies. The mining of rocks for their metal ore content has been one of the most important factors of human advancement, which has progressed at different rates in different places in part because of the kind of metals available from the rocks of a region.
How to Use Rocks in Your Landscape
Natural stone is one of the most versatile elements available for a landscape makeover. Rocks add texture and contrast, serve as a durable groundcover and require little or no maintenance.
Choosing the Right Rocks for Your Landscape
The rocks you choose will help set the tone for the rest of your garden. Tawny beach pebbles or river rocks add warmth, while white marble chips help brighten up shady areas. Flat terracotta stones complement a tropical landscape, but can seem out of place in a more formal garden. For a minimalist modern landscape or Polynesian-themed garden, try black lava rocks. Check out photos of rockscapes online to see what appeals to you. Because stones last indefinitely, it's important to choose a look you'll be happy with for many years.
How to use l

andscaping rocks and stones?
Using rock and stone landscaping to create beautiful pathways, steps, patios and more.
Landscaping with rocks and stones can be an elaborate process, but one that also has the potential to yield beautiful, long-lasting results. Whether you're looking for flagstone patios, stepping stones, rock walls, groundcover or other uses for natural stones, our rock landscaping pictures and stone landscaping ideas will set you on the right path.
Although there are universal favorites among landscape designers, rock varieties can vary by region – from the largest landscaping rocks down to the tiniest of pea gravels.The best place to begin your exploration of rock styles and types is on the web or in magazines. Get a feel for what you like, then you can decide how and where it might fit into your landscape design plan. 
Retaining walls, property line walls, garden walls, patio walls; there are endless barriers you can build with landscaping rocks of all shapes and sizes. Natural-looking stacked field or river stone walls provide a visual divide but lack the strength and longevity of a mortared wall.
The beauty of a flagstone or natural slate patio is hard to top. For a more natural look, stones may be laid across a bed of sand with joints filled in with small gravel. A cleaner, smoother and more durable patio will have flagstones laid on top of concrete with mortar in the joints. Some contemporary patio spaces use small gravel as groundcover and larger stones around the borders. 
Using rock pathways or stepping stones as part of your stone landscaping plan enhances your natural spaces with visual intrigue. It's easy to think of gravel as blah or gray, but the material comes in so many colors and sizes, it has become a handy filler for just about any area in your landscape plan. Multi-colored gravel can have camouflage effect; dyed or white gravel makes the path more visible. Flat fieldstone works for stepping stones – just make sure that if the pathway is steep, rocks aren't titled at an angle.